I was just updating the links page to include some of my favourite fitness resources.
I've mentioned Dances With Fat before, today there's a great blog post; 11 Reasons to Focus on Health Rather than Weight. I found it particularly validating after all my diet vs lifestyle squawking.
My current favourite is Fit Bottomed Girls. Lots of great advice, information, motivators, challenges, reviews on products and programs, give aways and the writers are a little bit cheeky so it's a fun read.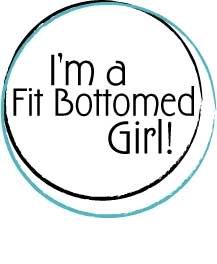 Although Fit Bottomed Girls' tagline is "Keeping a lid on the junk in the trunk," it does not mean that all trunks are little. In fact, we believe that FBGs come in all shapes and sizes! It's all about living a balanced life with exercise, healthy foods and a whole lotta' laughter.
I love that mission statement and I was going to add that badge to one of the sidebars, but somehow it still felt like a gross exaggeration. Can I get a "I'm a good-effort bottomed girl!" badge? Like the "participant" ribbons everybody got on track and field day in elementary school? "I'm a participant bottomed girl!"